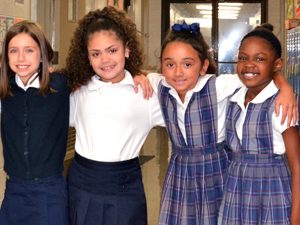 The mission of St. Cecilia Catholic School is to educate each student in a spirit of faith and academic excellence according to Roman Catholic principles. We provide a safe and nurturing Christ centered learning environment with the desired result to graduate students who are well-versed in the Catholic faith, academically prepared to continue their education, Christian in attitude and outlook, and prepared to serve the community.
For more than 50 years, St. Cecilia has built a reputation for academic excellence that is rich in Catholic identity. We encourage you to speak to the parents of St. Cecilia students. You will find that the school community is the component that sets us apart from other schools.
We welcome new families into this community and look forward to a shared partnership as we work toward the goal of providing academic excellence in a faith-filled environment.
Interested in touring St. Cecilia? Please call us at 614-878-3555 to schedule a visit or if you if you have additional questions.